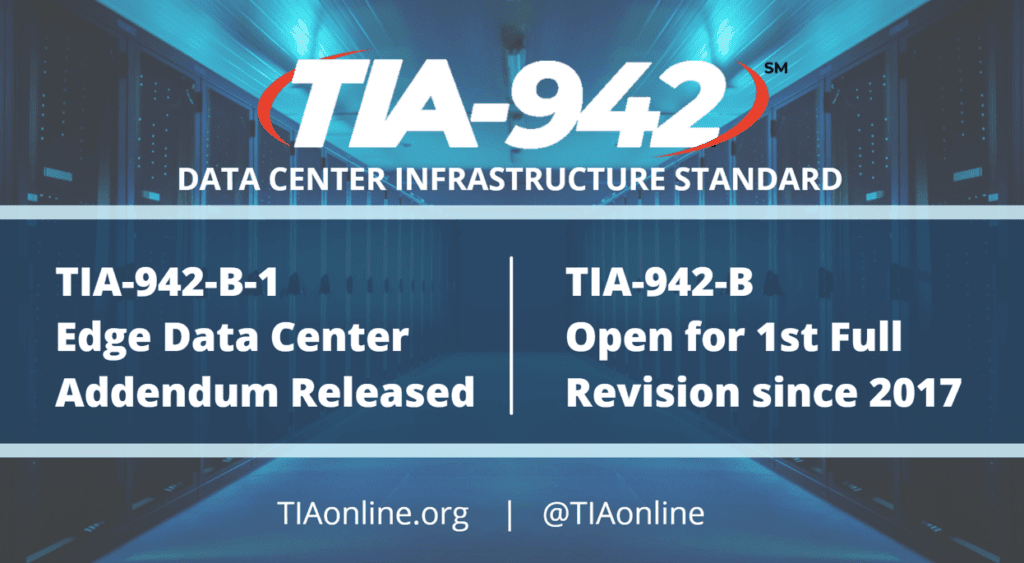 TIA-942-B-1 Addendum for Edge Data Centers Released.
CLICK HERE to purchase the Addendum document only. The addendum adds new initial infrastructure requirements and design guidelines for edge data centers, also referred to as "micro" data centers.
CLICK HERE to purchase the full TIA-942-B Standard, which includes the new Addendum.
TIA-942-B has officially opened for revisions and the creation of TIA-942-C.
Email membership@tiaonline.org to get involved with TIA's TR-42 Standards Committee and Data Center Technology Program.
Data Centers for a 5g World
To meet the needs of new high-bandwidth, low-latency applications, data needs to be hosted close to users and network functionality performed in milliseconds versus having data processed and stored in centralized data centers located sometimes many cities away from its source. 
The solution lies in edge computing that brings IT and cloud-based services closer to end users and devices. However, edge data centers are unique and industry-driven edge data center standards are critical to the success of these localized computing spaces. That's where TIA's Edge Data Center Working Group comes in.
Certify your Data Center today!
Data center owners around the world have been certifying their facilities to the TIA-942 standard to help their businesses. As competition for customers increases, TIA-942 certification can set your data center apart and drive new customers looking for the most resilient and reliable data centers. The TIA-942 Certification Program demonstrates conformity to the requirements of the globally-recognized ANSI/TIA-942 standard, providing greater assurance to customers and stakeholders.
TIA's Data Center Working Group brings together carriers, data center owners, equipment and cabling suppliers, consultants, auditing firms, and others to establish best practices for edge data centers within TIA-942.
If you're interested in lending your expertise to this effort, we want to hear from you. Please send an email to datacenterinfo@tiaonline.org to get involved.
Thank you to our Data Center Program Leader: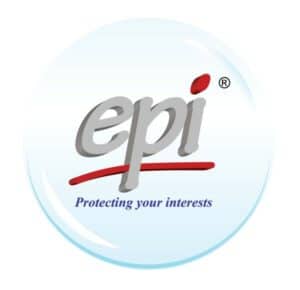 EPI Certification
The October 2021 TIA white paper entitled "Where's the Edge?" created a framework of edge computing implementations as envisioned by the telecommunications industry. In this paper, we now explore how the Information Technology (IT) sector can overcome the challenges of powering new infrastructure in disparate locations, while also meeting global and corporate decarbonization goals.
TIA-942 Webinar
As data centers continue to evolve with the emergence of 5G and edge applications, commitment to resilience and reliability must be demonstrated transparently through independent data center certification against an industry-defined standard. This webinar will describe why the ANSI/TIA-942 data center standard and certification program are critical to ensuring the successful deployment of the new applications enabled by 5G. Attendees will get an overview of the latest information around TIA-942 and hear industry experts present their perspectives on why the resiliency of the data center is paramount to building trust in our digital infrastructure.
The global market for edge data centers is projected to triple over the next five years with 50% of enterprise-generated data expected to be created and processed outside of traditional centralized data centers. 
Edge data center standards and certification programs will be critical to ensuring cost-effective and reliable high-speed, low-latency data processing through localized computing, storage and analytics that support next-generation 5G and smart building/smart city IoT and IIoT technologies such as:
Self-driving vehicles, smart traffic systems 

Virtual and augmented reality

Artificial intelligence (AI) and machine-to-machine (M2M) communication

Enhanced e-commerce, gaming and video streaming

Advanced telemedicine, smart grids, remote resource monitoring and location services