Providing Assurance of Resilience, Security, Quality
The TIA-942 Certification Program enables data centers to be reviewed and certified for conformity to the requirements of the globally-recognized ANSI/TIA-942 standard, providing greater assurance to customers and stakeholders. The program includes a worldwide listing of TIA-942 certified data centers, TIA-942 licensed audit companies providing certification services, as well as information and training for companies and individuals interested in becoming a certified auditor or consultant.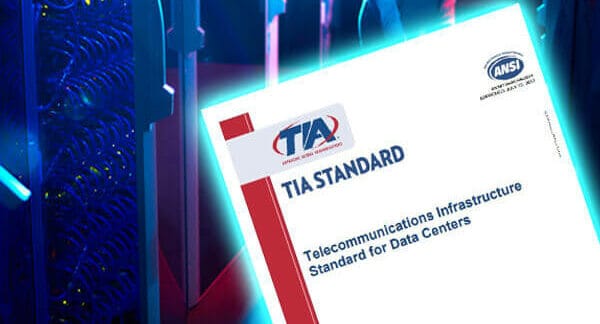 The ANSI/TIA-942 Standard
Specifies requirements for telecommunications infrastructure of data centers and computer rooms, covering all aspects, including infrastructure, site location, architectural, electrical, mechanical, safety and security. Learn More!
Certifications & Ratings
Design, Facilities and Readiness certifications, each with four classification rating levels. Learn More!


This webinar describes why the ANSI/TIA-942 data center standard and certification program are critical to ensuring the successful deployment of the new applications enabled by 5G. Viewers get an overview of TIA-942 and hear industry experts present their perspectives on why the resiliency of the data center is paramount to building trust in our digital infrastructure.
About ANSI/TIA-942
The ANSI/TIA-942 Data Center Infrastructure Standard covers site location, telecommunications infrastructure,  architectural and physical structure of the building, electrical and mechanical infrastructure, fire safety and physical security.
The TIA-942 certification scheme establishes Licensed Certification Bodies (CBs) deemed competent to verify data center conformity with the standard.
Within the TIA-942 certification scheme, CBs are licensed following an evaluation of their organization against recognized standards to ensure their impartiality, competence, and consistency. The licensing process established for this scheme relies on a uniform approach accepted and implemented around the world to determine the competence of an audit organization.
Click Here to Download the TIA-942 Overview
The TIA-942 standard is developed and maintained by the TIA Engineering Committee TR-42. Click HERE to learn more about TIA standards and participate in their development.
Have Questions?
Contact datacenterinfo@tiaonline.org if you have questions or want to get involved.

Frequently Asked Questions about ANSI/TIA-942 Certification
This FAQ is a work in progress, and we encourage your questions, comments, and feedback to help improve the information provided. Nothing in this FAQ replaces or updates anything within the certification program or the standards mentioned herein.  This FAQ is provided solely for a user's convenience and should not be relied upon for definitive answers to questions.