What is ICT Lifecycle Management?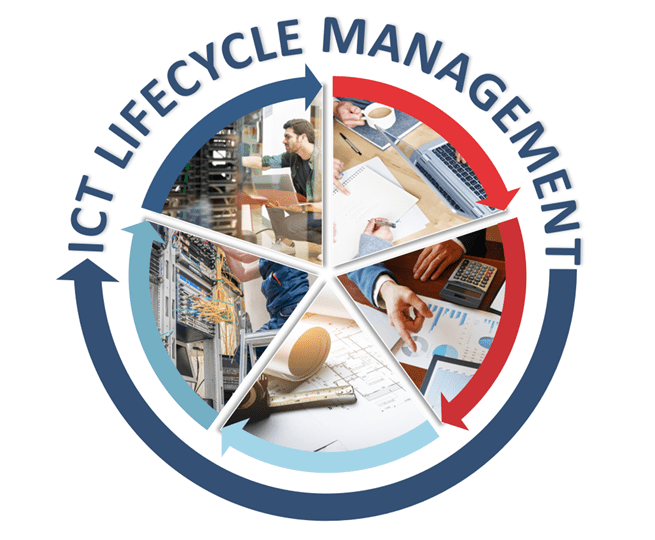 With the establishment of TIA's TR-60 ICT Lifecycle Management Committee and standards development efforts underway, some in the industry may be wondering what exactly ICT Lifecycle Management is and why we need a standard. Let's take a closer look.
The Concept Applies
Before we can explain ICT Lifecycle Management, it makes sense to first explain the origin of the concept. The first and most well-known recorded use of lifecycle management began in the 1980s among automobile manufacturers for effective management of products throughout their lifetime— from development and introduction, to growth, maturity, and ultimately decline.
The goal of product lifecycle management was to maximize profit and reduce cost by improving efficiency and speeding time to market based on consumer demand. Product lifecycle management grew and expanded into other markets for managing a wide range of goods such as electronics, software, packaged goods, and clothing. Today, lifecycle management is considered a strategic integrated business concept that can be applied to much more than individual products—it can be used to manage services, systems, and even entire facilities such as power plants and smart buildings.
Applying lifecycle management to ICT infrastructure makes perfect sense. Like any product, system, or facility, ICT infrastructure is planned, designed, procured, delivered, implemented, operated, maintained, and eventually retired. All networks, systems, equipment, connectivity, resources, and workloads that comprise ICT infrastructure also have a lifecycle. Large cloud data centers operated by hyperscale providers like Google, Facebook, and Microsoft have historically managed their ICT infrastructure lifecycles by doing a major refresh every few years. However, this rip-and-replace approach cannot be considered true lifecycle management and is something that only the highest revenue-generating companies can typically afford to do.
Complexity Calls for It
Over the past two decades, ICT infrastructure has become increasingly complex for the vast majority of medium-to-large enterprise organizations and government agencies. ICT infrastructure today is comprised of multiple generations of systems, solutions, and data structures with overlapping lifecycles—often deployed and operated across multiple siloed locations and managed by multiple siloed organizational teams. This has led to a lack of visibility where IT teams are unaware of all of their assets and capacity, frequently requiring them to embark on tedious reverse engineering tactics of analyzing and dissecting existing assets or even costly third-party audits before they can make changes or add resources. It has also created organization-wide discrepancies and confusion that results in duplication of efforts, inefficient use of network resources, and inconsistent standards compliance.
Now the adoption of new technologies like IoT/IIoT, edge computing, cloud computing, and smart buildings technologies are becoming increasingly necessary for businesses to digitally transform and remain competitive. At the same time, the ICT industry as a whole is faced with evolving business practices, heightened risk of cyberattack, new regulations surrounding data privacy and sustainability, and organizational challenges—all of which make ICT infrastructure even more complex and more difficult to manage.
Standards are the Answer
As technology continues to advance, enterprises and government agencies can no longer afford the time, cost, and risk of inefficient and inconsistent ICT infrastructure management that impedes progress and digital transformation. They need common ICT Lifecycle Management processes and procedures that can be followed across IT teams and their technology partners. As both a standards and trade association with more than 400 global members and over 3,600 published ICT standards, TIA is uniquely qualified to address the need.
Work has already begun within the TR-60 Committee to develop the first-ever suite of ICT Lifecycle Management standards that will provide a common framework for anyone involved in managing complex ICT infrastructure—from IT, data center, and facilities managers, to integrators, contractors, and service providers. It's about carefully managing and controlling every aspect of ICT infrastructure—from planning and information management to design, implementation, and ongoing operations—in a way that improves productivity and maintains business continuity, while reducing cost and risk and enabling fast, effective technology deployments.
The TR-60 ICT Lifecycle Management standard aims to:
Ensure adequate resources, expertise, documentation, and knowledge transfer to improve productivity and efficiency in managing increasingly-complex ICT infrastructure
Enable fast, flexible, and secure implementation of new technologies to deliver maximum value and enable rapid digital transformation with reduced risk
Enhance transparency, coordination, and decision making to eliminate costly duplication and inconsistencies across distributed and multi-site organizational teams
Establish clear, unambiguous management and control requirements for all internal and external stakeholders and third-party service providers
Enable targeted planning and investment to support ICT infrastructure change that reduces risk and capital and operational expenditure
To learn more about ICT Lifecycle Management and the current standards development efforts of TIA's TR-60 ICT Lifecyle Management Committee, Click HERE to download the position paper. For more information and to get involved in TR-60, please contact us at membership@tiaonline.org.