Five Reasons to Attend TIA QuEST Forum Trusted Network Summit 2022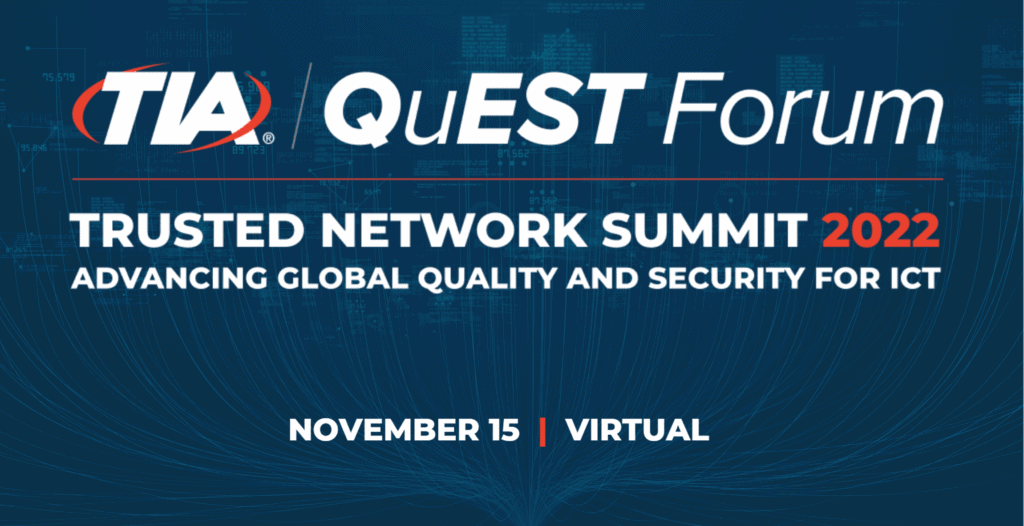 As 2022 comes to an end, TIA QuEST Forum is holding its annual event virtually with a little more than half a day of anticipated sessions that include influential keynote speakers and expert panel discussions; all focused on the critical topics of Quality and Security for the Information Communications Technology (ICT) industry.
TIA QuEST Forum is best known for maintaining the ICT industry's premier Quality standard, TL 9000. And now, its members have recently developed a new cyber and supply chain security standard, SCS 9001, which was released at a critical time to help an industry that has been plagued by increasingly sophisticated cyber-attacks over the last few years; with more attacks coming from their supply chain through vulnerabilities of suppliers.
With the event on November 15th, we wanted to highlight five things that will make this virtual summit a must-see event for anyone in the ICT industry or impacted by technology.
Expert Executive Speakers: TIA QuEST Forum has secured global leaders in areas of technology, business, and government to speak at the Summit. With C-level business leaders like Keri Gilder, CEO of Colt, and Deepti Arora, Mobile Networks CQO at Nokia, and the Director of the National Institute of Standards and Technology (NIST), Dr. Laurie Locascio, attendees will hear from a mix of leaders who will provide valuable insights and commentary from a range of different perspectives, all with a goal of ensuring our global networks are trusted both in terms of quality and security.
Discussions Focused on Solving Critical Challenges: The industry is undergoing a widescale reaction and adaptation to the global threat landscape. With the belief that Security is a subset of Quality, both elements are imperative to building trust in the networks of today and tomorrow. With experts from BT, Fujitsu, and CommScope, attendees will hear an exciting discussion between security experts from trusted ICT organizations as they examine the impact of supply chain vulnerabilities.
Access to Useful Industry Resources and Chats: In the virtual Networking Lounge, attendees can access a range of TIA QuEST Forum and Sponsor content resources from event sponsors, Fujitsu, Infinera, and Ribbon. Attendees can also engage in virtual chats with other attendees, speakers, and TIA members and staff.
Gain Clarity on the Impact of Quality: TIA QuEST Forum is the governing body of the TL 9000 Quality Management System and at the Summit, will host a discussion on what we can learn from 20 years of continual quality improvement in ICT. Hear real world stories of how TL 9000 has and continues to provide improvements in quality and profitability.
Get a Look at the Future: Smart buildings are gaining more momentum as the benefits from hyper-connected facilities include improved sustainability, operational performance, and occupant satisfaction. They also require a new approach to security as a networked system to integrate physical and cyber security strategies. The panel session, Smart Buildings ARE Networked Systems will provide a modern take on the state of smart buildings and the networks empowering the transformation of the commercial real estate industry.
On November 15th, ICT industry leaders will be logging on to convene digitally with the ICT community for important discussions that will offer insights and learning opportunities. TIA staff will be on hand in the chat to answer any questions you might have about the Summit's content or membership and participation options.
To learn more about the event, see the agenda, and register to attend for free, visit the SUMMIT WEBPAGE.