TIA QuEST Forum Updates Q3 – 2022
Registration is OPEN for TIA QuEST Forums Trusted Network Summit 2022!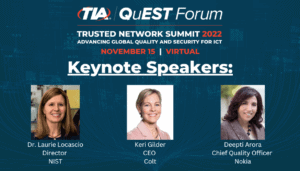 CLICK HERE to view the agenda and register for free!
QuEST Forum is excited to welcome new members Celestica, EOR Security, Spectra Services and Omnex. We would also like to extend our congratulations the following companies that received first-time TL 9000 certifications so far this year:
Accelight Technologies Inc.
Belden LRC Mexico S de RL de CV
Delta Networks (Dongguan) Ltd.
FirstPowerKorea Co. Ltd.,
Hon Yao Fu Technology Company Limited
HUANENG TAIAN OPTIC-ELECTRIC TECHNOLOGY
Inteliquent
Microscan Infocommtech Private Limited
NBUS INC
PPC Broadband Fiber Ltd
Shandong Jianbo Communication Equipment Co.,Ltd.
SMT TECHNOLOGIES SDN BHD
Over the past few months, the TIA QuEST Forum has been hard at work sharing the value and benefits of our new cyber and supply chain security management standard, SCS 9001. We have engaged with and presented the standard to over 50 organizations so far in 2022, including service providers, vendors and government agencies. The response has been outstanding!  Additionally, we have and will be attending numerous industry events to share details of SCS 9001.
SCS 9001 Version 2.0 is Underway!
Supply chain security and cybersecurity are fast moving and evolving topics in the ICT industry. Based on feedback from engagements, the results of the Pilot Program conducted at the start of 2022, and collaboration with peer Standards Development Organizations, the SCS 9001 Workgroup has started work on Release 2.0.
Expected to be available at the end of 2022, SCS 9001 Release 2.0 will include a general restructuring of the standard's requirements and numbering convention for ease of mapping to other publications, and broader coverage of various provenance coverage areas, improved clarity, and other general improvements. It will also provide more flexibility to certifying organizations in how to apply the requirements of the standard.
It is not too late to provide input and help direct this and future versions of this important new standard. Contact TIA QuEST Forum for additional information and availability of SCS 9001 Release 2.0.
Not a TIA QuEST Forum participant?
TIA members receive a 15% discount on TIA QuEST Forum participation fees.
For more information, contact Leigh Ann Perkins at lperkins@tiaonline.org.