TIA QuEST Forum Trusted Network Summit 2022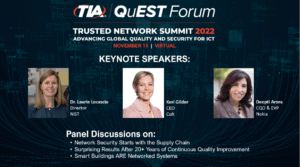 Advancing Global Quality and Security for ICT – The 2022 QuEST Forum Trusted Network Summit will bring together experts from international industry and policy leaders, including speakers from NIST, Colt, Nokia, Microsoft, Corning, Fujitsu, CommScope, and more to discuss the most vital issues facing our global networks. This half day virtual event will feature 3 keynote addresses and 3 panel discussions relevant to the importance of  improving network quality management and supply chain security for our connected World.
Visit our EVENT PAGE for full agenda details and to register for Free!