TIA Remembers Co-Founder Paul H. Vishny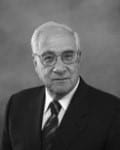 The Telecommunications Industry Association (TIA) is remembering the life of Paul Vishny and the impact he had on the telecommunications industry.  Paul was a visionary co-founder and General Counsel for TIA who formally incorporated the organization and continued to provide wisdom and guidance to TIA from its first day until his retirement.
Paul worked with Western Electric Corporation's leadership to create a trade association for the manufacturers and suppliers of communications equipment.  He created the structure of the TIA Standards development process and influenced numerous other Standards groups in the process.  He worked with ANSI, the ITU, ETSI and many others on issues ranging from Intellectual Property to proper processes and due process. He advised the ITU on issues important to TIA and its members and gave guidance on everything from day-to-day matters to unique and complex topics like common cryptographic algorithms and other emerging technologies.
Paul was unique in that he cared deeply both about people who ran the companies TIA represented and about the staff of TIA.  He became friends with all who met him.  Paul was an author of learned treatises in international law, a religious scholar, an ordained Rabbi, and a generous soul who loved to share stories of meeting world famous dignitaries like Moshe Dayan and leaders of today's largest companies.
Paul loved everything about Chicago and loved to take people to his favorite restaurant, Kiki's Bistro, or talk about Chicago sports or culture.  Ryan Sandberg, the second baseman for the Cubs lived in his building and Paul would share stories of talking with him in the elevator and would ask him to autograph baseballs for kids who also loved the game.
Paul would travel to TIA Board meetings with his wife Michele who was herself a well-known scholar in art history.  They would sit together with great respect for each other and for the long lives they had shared.  He loved his kids and grandchildren and took pride in their successes.  Words fall short of describing him and what he meant to TIA, the ICT industry, and all who met him.  Despite Paul being taken by complications from COVID-19, we know he would want for us to remain optimistic and supportive of one another, especially during this pandemic.
A link to his obituary in the Chicago Tribune can be found here: https://www.legacy.com/obituaries/chicagotribune/obituary.aspx?n=paul-vishny&pid=196063752&fhid=2000