TIA Policy Forum: Key Take-aways from Government Officials from the U.S, Germany and Japan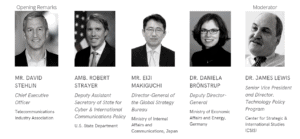 As 5G expands and matures, it will connect the people and technology like never before. Buildings, vehicles, and of course, phones, will connect over a new interoperable global network which will be powered by software and open source technology that will bring new applications and critical services to market.
But while 5G is expected to enable new technological advancements, the risks are higher than ever before. With the emergence of the new software-driven open radio access network (ORAN) architectures, it's critically important to ensure industry and governments work together to establish trust throughout the information communications technology (ICT) supply chain using transparent processes and independent validation.
This is why TIA convened a panel of international policy officials: to discuss how different countries are addressing common security challenges in the 5G era and explore the potential for unified, global approaches to ICT supply chain risk management.
The forum's panelists included Amb. Robert Strayer, Deputy Assistant Secretary of State for Cyber and International Communications Policy, U.S. Department of State; Mr. Eiji Makiguchi, Director-General of the Global Strategy Bureau, Ministry of Internal Affairs and Communications, Japan; and Dr. Daniela Brönstrup, Deputy Director-General, Federal Ministry of Economic Affairs and Energy, Germany. The panel discussion was moderated by Dr. James Lewis, Senior Vice President and Director, Technology Policy Program, Center for Strategic & International Studies.
It quickly became clear from each of the panelists that in order to tackle the issue of supply chain security for 5G, the cooperation of industry and governments around the world would be required. Further, the speakers also agreed that international standards are going to play a critical role in helping validate what is secure in an extremely complex supply chain.
Deputy Director-General Brönstrup said that securing 5G was high on not only Germany's agenda, but for the EU at large. Germany, which she noted does not support bans on specific suppliers or countries, must play an important role in influencing how the EU takes a united front in addressing 5G security. She emphasized the need for Germany to incorporate key pieces from the EU Toolbox on 5G Security into the country's legal framework, which will help cement a more unified approach across the EU to address network security.
Director-General Makiguchi voiced Japan's support for international cooperation and virtualized networks by highlighting the country's Beyond 5G Promotion plan released in June. He said the technical hurdles cannot be overcome by one country alone and that cooperation is critical for R&D and standards setting.
DG Makiguchi also emphasized the importance of the Prague Proposals in setting a common, international benchmark for trust as well as the importance of public-private partnerships in maintaining secure global networks. In addition, Japan will incentivize businesses through tax credits that would be earned by meeting security conditions.
Amb. Strayer articulated the importance of using trusted vendors and referenced the State Department's 5G Clean Path initiative, as well as and their role in developing the National Strategy to Secure 5G Implementation Plan, to establishing a trusted ICT supply chain. Like DG Makiguchi, Amb. Stayer highlighted the importance of communicating and working with trusted allies on this issue, and underscored the importance using the Prague Proposals for a global foundation for establishing trust in the world's ICT networks.
Each panelist acknowledged that these networks will be fundamental for economies around the globe. Securing 5G will take work from all supply chain stakeholders, from the service providers down to the chip manufacturers and software developers.
If you weren't able to attend, you can stream the audio of the panel discussion here.
For more information on 5G and ICT supply chain security, TIA published a position paper outlining the need for an industry-driven standard and later announced it would work with industry to create an annex to the TL 9000 process-based standard for supply chain quality to include specific criteria that specifically addresses supply chain security.