Q & A with TIA Chairman of the Board, Doug Moore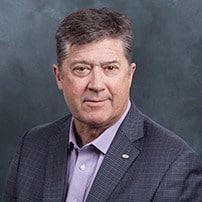 Recently, we caught up with TIA's Chairman of the Board, Doug Moore.  Doug is CEO of Fujitsu Network Communications, Inc., and we asked him some questions about what issues are currently facing the ICT industry as the world begins to emerge after more than a year under work-from-home and social distancing advisory orders and what challenges and opportunities lie ahead for our industry.
1: What are the big challenges and opportunities you see in the next 1-3 years for the ICT industry?
COVID has had an enormous impact on every industry, including ICT, over the past year. The virus remains a near-term risk with new variants circulating and global herd immunity far from a reality. Its tendrils extend into many of the challenges and opportunities that will characterize the next three years.
COVID distancing restrictions initially forced many companies to extend their status quo and delay needed innovation until a return to in-person engagement was possible. Reinstatement of restrictive distancing rules is a threat until virus containment is achieved. Macroeconomic recovery speed is a substantial risk for the business community, and particularly for the ICT industry. There are positive economic signs but we still have a long way to go to recovery.  Increased component lead times and compromised shipping capacity are among challenges for the global supply chain. While shipping capacity will recover as air travel returns, supply capacity is expected to remain a challenge through the end of next year.
But it's not all bad news. On the positive side, many companies are accelerating their digital transformation and increasing the use of digital technologies. 5G infrastructure and private 5G deployments offer great opportunities to drive positive outcomes for a variety of use cases across industry verticals. Open networking is poised to take off with the advent of initiatives like O-RAN, Open Line System and Open ROADM and promises to improve innovation and supply chain security and eliminate vendor lock-in for optical and wireless networks.
Companies are also recognizing and using their power to positively impact society. The surprise success and overnight popularity of "from home" has immense potential to generate positive environmental and climate impacts. New corporate social activism promises to move us toward a more inclusive and equal society.
2: As the ICT industry prepares for post-COVID life, what do you think the lasting impact will be from pandemic?
I expect three macro factors to have long-term consequences for the ICT industry and particularly for communications networking:
The pandemic has made clear the extent to which humanity is globally connected and interdependent. While we have differences culturally and politically, the need for multinational cooperation has never been more critical. The U.S. and its allies need to engage decisively and take the lead on many fronts, including in the standards community.
Since last March, broadband networks have been a lifeline which enabled a shift to everything "from home". The virtual workspace promises to be one of the lasting legacies of the pandemic, but each business needs to find its own balance. The teleworking trend will be tempered with hybrid work environments as each company determines what mix meets its business goals.
Social distancing and its effects on daily life have lent international prominence to the critical economic and social importance of communications networks. Wireline and Wireless broadband networks are vital infrastructure and that has never been clearer. Pre-pandemic, regulatory agencies across the globe were already making licensed and shared spectrum available to support the promise of 5G. In the U.S., Canada, and beyond, pandemic-related policy and programs to drive investment and ensure connectivity across the region will stimulate broadband expansion as well as encouraging further spectrum availability.
3: As the 'new' 2021 Chairman of the Board for TIA, what accomplishments/goals/milestones do you look forward to seeing this year?
I truly appreciate and want to recognize Dave Stehlin and the entire management team for restoring a positively balanced budget. Financial stability is fundamental to the ongoing growth and success of our association and is especially important in 2021.
Membership growth is a must-have, to ensure diverse industry participation and support. New initiatives, including the joint smart buildings certification program with UL,  SPIRE, the new supply chain security standard, SCS 9001, and 'edge' data centers, will be the headliners for the rest of the year.
I expect these to drive strong positive growth and progress year over year.
4: How has TIA Membership been valuable to you and/or Fujitsu Network Communications?
We enjoy multiple benefits from TIA membership.
The QuEST Forum is essential to our participation and involvement in the industry community of innovators and experts. The forum brings leaders in the ICT ecosystem together to meet the challenges and demands of digital transformation in a fast-changing, global industry. We leverage the TL 9000 quality standard and continuous improvement approach, for example, to drive higher quality and better business performance – and to help our customers do the same.
We seek out and greatly value the guidance and support of fellow TIA members in tackling key industry issues involving technology and trade.
As a committed advocate for open networking and an active participant in the development of open standards, we place a high premium on TIA's own standards activities.
I personally value the network of great industry collaborators I have met and built friendships with through TIA.
Doug Moore is President, CEO, and member of the board of directors of Fujitsu Network Communications Inc., where he is responsible for the overall strategic leadership and general management of the company's optical, wireless, software and services business operations.
During his career, Doug has held a variety of positions at Fujitsu including SVP Sales, Services and Marketing, as well as leadership positions in development, manufacturing and engineering. Prior to Fujitsu, he worked in development, quality assurance and sales at AT&T Network Systems (formerly Western Electric).