Assessing Smart Buildings – The Time is Now for a Holistic Approach


There's no denying the growing demand for smarter buildings – regardless of building type or industry vertical.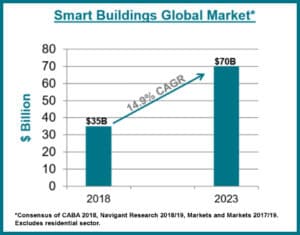 According to reports from CABA, Navigant Research and Markets and Markets, the commercial smart building market is expected to grow from $35 billion in 2018 to $70 billion by 2023.
The question becomes: How do building owners, REITs, and developers assess the overall intelligence of a building?
As it stands today, the market lacks holistic assessment criteria to use for evaluating or rating a building's intelligence. There are several well-known and respected programs that measure and assess portions of building intelligence, such as its sustainability or connectivity, but for commercial real estate investors, a holistic approach is overdue.
In a new position paper, TIA proposes that six key categories need to be addressed when looking to evaluate and build smarter buildings:
Connectivity
Health & Wellbeing
Life & Property Safety
Power & Energy
Cybersecurity
Sustainability
In the position paper, TIA outlines the need for a standards-based, comprehensive set of assessment criteria as well as who stands to benefit across the smart building ecosystem, from owners and investors to suppliers and integrators.
With new emerging technologies, such as 5G, IoT devices and sensors, edge data computing, data analytics, and building automation through AI and ML, buildings have more potential than ever to become smarter. However, without a clear assessment-based roadmap from trusted and independent 3rd party resources, commercial real estate decision-makers and investors will find the complex nature of smart buildings to be difficult to navigate by themselves, which could risk wasted time and capital investments.
It's not just commercial real estate property owners and tenants looking forward to buildings. As governments at all levels are working on initiatives to make smart cities a reality, they will need smart buildings to serve as the foundational building blocks. To enable new capabilities like self-driving cars, drone delivery and other low latency-required applications, the buildings in a smart city will be integral to the overall success of these initiatives.
To download the TIA Smart Buildings Position Paper, CLICK HERE